A few weeks prior to shooting this image of Lihou Island, Guernsey, I'd spotted the location whilst walking and returned one evening when the clouds unfortunately dissipated before the sun had set. I shot it anyway as a proof of concept knowing that such a simple composition required a more dramatic sky.
On this occasion a weather front looked set to begin clearing during the early evening so I headed back to L'Eree headland to re-shoot the scene. I found a more pleasing composition slightly lower on the hill where I could use a footpath as a leading line.
The composition is quite simple and more central than I would normally choose. I needed to keep the bright sun out of shot, just to the left of the frame and there is little of interest further to the right. Also just out of frame-left are two small wiry trees, which you can actually see in the image from my previous visit. These trees definitely have potential but from my location were simply a distraction. I imagine they might come into play deeper into winter when the sun has swung further south and may allow a composition with more of an angle on the island.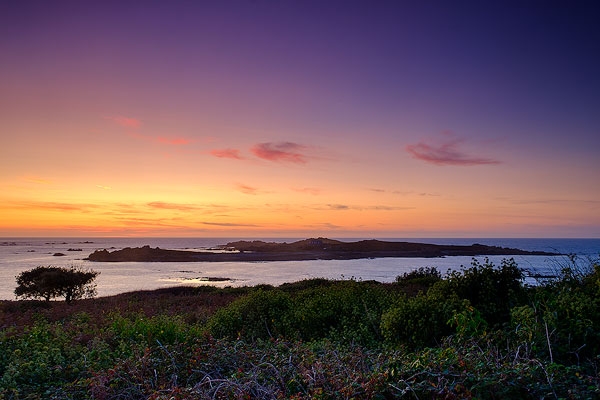 Clear sky on the first visit needed more drama.
I love the beautiful colours of this sunset and I think the simple view will lend itself well to future visits under various weather conditions. For example, just imagine this scene with distant lightning as a backdrop! That may take some time…
Please help me get seen
I'm really grateful to you for taking the time to view this page. Please feel free to leave a reply below and if you like what you've seen, you'll be doing me a huge favour by sharing this page with the social media buttons above.
This image is available to buy
The 'Buy' button above will take you to our sister-site RockStock where you can buy this image and many others as a download or a stunning print with a wide variety of options and sizes.