Any photographer with some knowledge of colour theory will know that red's complimentary colour is green. The colours sit opposite each other on a colour-wheel and that usually means they work perfectly together. So when Lauren agreed to being photographed, I jumped at the chance knowing that her red hair and rare green eyes would make for a great portrait.
I hadn't prepared myself well though for the presence of Kerby, Lauren's little Terrier who's desire to sniff the world could have benefitted a customs agency had he chosen a different career path as a puppy. This was now going to be a 'me and my dog' shoot.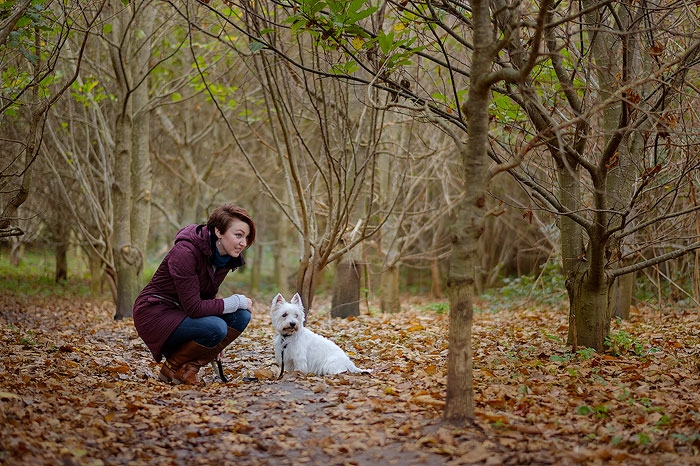 Despite his boundless energy for nasal-driven exploration, Kerby was in fact quite well behaved and in moments between irresistible smells undetectable to us, he would sit on command and I was able to get some nice shots as he looked into his owner's eyes.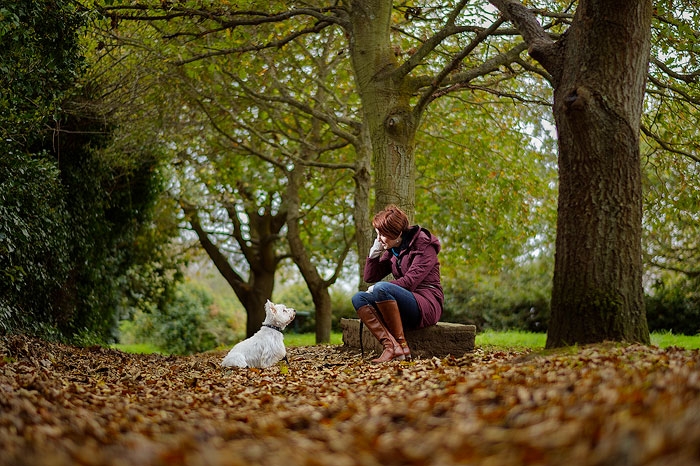 As time ran out we hadn't quite achieved what I'd set out to do so we looped Kerby's lead around a nearby log and set about trying to photograph Lauren in a way that highlighted her green eyes. Sunlight shining through an overcast sky behind me softly illuminated her face. Kerby wasn't particularly impressed by any of this and after some protest, had his lead transferred from the log to beneath Lauren's foot. After some experimentation with position and hand placement, the two photos you see here were the stand-out shots.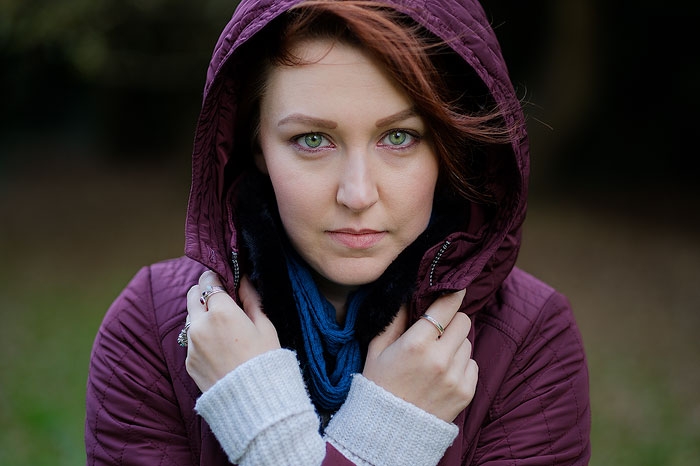 I'm unsure which photo I prefer. The pose looking off-camera has a nice candid feel to it, whereas the straight-on portrait shows Lauren's eyes off much in the way I had envisioned.
My thanks go to Lauren and Kerby for giving up their precious time to help me out. I hope we get to work together again in the future.
Please help me get seen
I'm really grateful to you for taking the time to view this page. Please feel free to leave a reply below and if you like what you've seen, you'll be doing me a huge favour by sharing this page with the social media buttons above.
Would you like to be photographed?
If you'd like your own portrait photos taken in a great location, please click here to get in touch and find out more.