Landscape photography on Guernsey, as is probably true of any locality, can be both a blessing and a curse. Guernsey is unique in that it contains a wide variety of dramatic scenery that is within easy reach, however the island's size dictates that the number of scenes available are inherently limited.
I have my favourite locations for photography, places that I return to again and again attempting to perfect a previous shot by capturing a different angle or under different conditions - our huge tidal range and varied weather greatly extend the potential of a particular scene. However, there are times when I feel that I, or other photographers have exhausted a location, leaving nothing to significantly improve upon. Sometimes I find myself thinking that there is nothing left to photograph.
More a state-of-mind than actual fact, when confronting this dilemma we're forced to change perspective and actively seek something new. It occurred to me that I had never explored the short footpath that runs around the periphery of Port Soif, a horseshoe bay on Guernsey's west coast. I have photographed the areas at both ends of the bay many times but never considered that I might find something worthy of a photograph somewhere in-between. In true Guernsey fashion, this isn't some grand, undiscovered landscape, but a small area of sand dune separating the beach from the coastal road - blink and you might miss it.
This sand-fence, intended to prevent dune erosion, almost backlit by the late-afternoon winter sun, made a graphic outline that I immediately knew would work best as a black and white image. There was nothing wrong with the colours in the scene; the grasses have beautiful green tones and the sunlight creates amazing golden highlights, but I felt that this contrast would produce a far more dramatic image in black and white.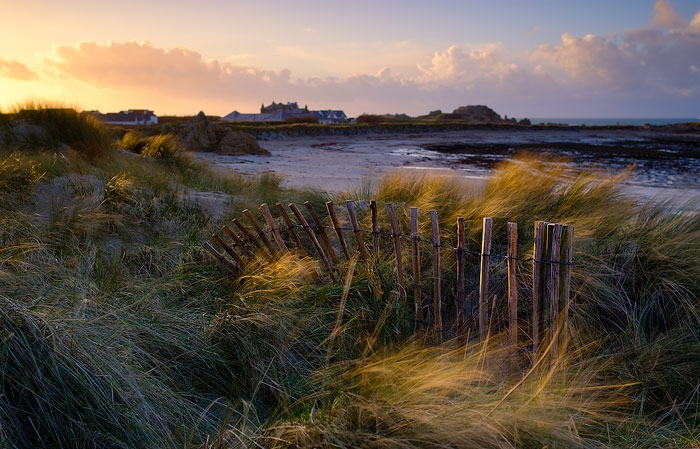 The same photo in colour. Tell us which you prefer in the comments.
The background, to my mind, adds nothing to the scene. Several buildings on the horizon detract from the wild, open feel of the image. Unable to find a more pleasing angle that would remove them while still benefiting from the contrasty light, I opened the aperture to throw the background slightly out of focus and pull attention away from it. I also needed to smooth the grass with some wind movement to really make the fence stand out - my test shots with the grass sharp made for a very 'busy' image, losing the fence in too much surrounding detail. The solution was to use a heavy neutral-density filter which allowed me to retain the fairly wide aperture but reduce shutter speed enough to allow the grass to blur when the wind gusted. Everything in photography is a compromise, this image being a good example of that.
In post-production, of course I needed to convert to black and white, which I did using one of Fuji's 'Acros' profiles as a base. The sky was darkened to further draw attention away from the background buildings and I made some lighting and contrast adjustments to the fence area in order to draw the eye toward it. Just for fun, I've included a colour edit for comparison - I'll be interested to hear which style you prefer.
Please help me get seen
I'm really grateful to you for taking the time to view this page. Please feel free to leave a reply below and if you like what you've seen, you'll be doing me a huge favour by sharing this page with the social media buttons above.
These images are available to buy
The 'Buy' button above will take you to our sister-site RockStock where you can buy these images and many others as a download or a stunning print with a wide variety of options and sizes.